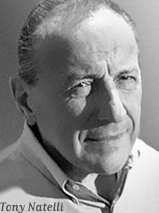 The late Anthony M Natelli was the founding partner of Potomac Investment Associates in the mid-1970's and is remembered as one of the Washington area's finest real estate developers. He developed Avenel in Potomac, Maryland, turning the once forlorn site of a planned sewage treatment facility into a vital community of over 900 homes and a championship golf course that has hosted a PGA Tour event for over a decade. In 1996, Tony earned the prestigious Urban Land Institute "(ULI)" Award of Excellence for the finest planned community in the nation, for his visionary work on Avenel.
In 1993, Anthony Natelli merged his firm with his son Tom's development company to form Natelli Communities. Tom took over as President and CEO of Natelli Communities, while Tony remained active in the company, as Chairman, until his passing in 2004. Together, they built Natelli Communities into one of the most respected and accomplished real estate concerns in the mid-Atlantic region.
Tony was a leader of a variety of civic and charitable organizations and served on the boards of many foundations, including the Suburban Hospital Foundation, Strathmore Hall Foundation and Victory Housing Foundation, a non-profit developer of affordable assisted housing for the elderly.